Game day is quickly approaching and you're planning your tailgate party. Sure, you've done plenty of tailgating in your day, but we're here to amp it up a bit.
We all know the basics: show up at least 4 hours early to set up, cook, eat then clean up. Put a balloon on your car so your friends can find you. Pack plenty of burgers, hot dogs, buns, and condiments. Prep as much as you can the day before.
But we want you to have the most kick-a$$ tailgate party. If Barney Stinson were here, it would be legen-(wait for it)-dary.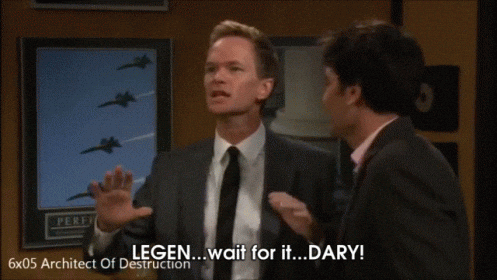 Set up a build your own station. Whether it's burgers, hot dogs, nachos or breakfast burritos, letting your pals customize their meal is always a hit. Pro-Tip: you can use a repurposed drink holder to hold cups filled with topping options.
Make jello shots… in your team colors. Make them the night before in small containers with lids so they're easy to pack up without making a mess. Party morning, just throw them in the cooler so you're ready to party! Pro-Tip: vodka is the go to booze, but we're also fans of rum or flavored vodka.
Customize cornhole boards. You can paint (or use large stickers) your cornhole boards in your favorite team colors and use beanbags in those colors too.
Do your own Epic Meal. Whether it's a huge burger wrapped in bacon or a 35lb grilled cheese, challenge your group to a high-calorie, not-even-remotely-healthy-for-you meal to see who can eat the most. Step it up: Winner gets a their favorite

 

NCAA team hat.
Be the host with the most. Plan for everything and bring blankets, ponchos, hand warmers, a mini first aid kit, bottled water, mini battery packs for recharging phones, sunscreen, and chairs. Having everything on hand will mean that no matter what, you'll be prepared.
No matter whether you're tailgating at home or the parking lot by the field, you'll be prepared to have the most epic tailgate party. How do you tailgate? We want to hear from you!